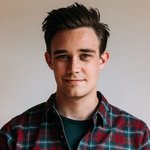 Jack Broadbent
Hi, My name is Jack and thanks for taking the time to check me out! I really hope you like what you see here. Growing up in the picturesque Lake District of England, it was inevitable that I would at some point pick up a camera and point it at some vaguely interesting vista. That's exactly what happened, and as soon as i pressed the shutter release for the first time, I was hooked. Over a period of 4 years I have come from a novice haphazardly snapping landscape shots to a developed (and still developing) amatur photographer. I like to capture the details in life; be it a well planned landscape of the English countryside or a spur of the moment street shot. Why take photos? For me, photography is more than a hobby, It's the way I like to express myself. I am always amazed at how much detail is captured in a single still image. Details that I was not able to notice at the time I created the image, due to either the distractions of sound and motion, or just the fact that we are all limited by the amount of information we can take in and process in any given period of time. This type of shooting is more than just a documentary of my life, but rather and emotional journal. Capturing a mood, or a feeling, and attempting to express that feeling in an image. ————————————————— Links: Instagram: https://instagram.com/jackbroady/ Twitter: https://twitter.com/JackBroady Jack Broadbent joined Society6 on June 25, 2015
More
Hi, My name is Jack and thanks for taking the time to check me out! I really hope you like what you see here.
Growing up in the picturesque Lake District of England, it was inevitable that I would at some point pick up a camera and point it at some vaguely interesting vista. That's exactly what happened, and as soon as i pressed the shutter release for the first time, I was hooked.
Over a period of 4 years I have come from a novice haphazardly snapping landscape shots to a developed (and still developing) amatur photographer. I like to capture the details in life; be it a well planned landscape of the English countryside or a spur of the moment street shot.
Why take photos?
For me, photography is more than a hobby, It's the way I like to express myself. I am always amazed at how much detail is captured in a single still image. Details that I was not able to notice at the time I created the image, due to either the distractions of sound and motion, or just the fact that we are all limited by the amount of information we can take in and process in any given period of time. This type of shooting is more than just a documentary of my life, but rather and emotional journal. Capturing a mood, or a feeling, and attempting to express that feeling in an image.
—————————————————
Links: Instagram: https://instagram.com/jackbroady/ Twitter: https://twitter.com/JackBroady
Jack Broadbent joined Society6 on June 25, 2015.
Jack Broadbent's Store
107 results
Filter