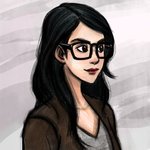 Mmmhoi-kay
I'm an artist, animator based in Toronto, I go by the name Mmmhoi-kay pronounced Mmm-H-Oi-Kay. I enjoy painting my art in a cute style and colouring with vibrant pretty colours. I hope you like my work! I'm available for commissions just reach out to me via bubblemail, tumblr or IG c: Full Portfolio: https: jhkportfolio.tumblr.com instagram.com/jhoikey/ Mmmhoi-kay joined Society6 on September 17, 2015
More
I'm an artist, animator based in Toronto, I go by the name Mmmhoi-kay pronounced Mmm-H-Oi-Kay.
I enjoy painting my art in a cute style and colouring with vibrant pretty colours. I hope you like my work!
I'm available for commissions just reach out to me via bubblemail, tumblr or IG c:
Full Portfolio: https: jhkportfolio.tumblr.com instagram.com/jhoikey/
Mmmhoi-kay joined Society6 on September 17, 2015.