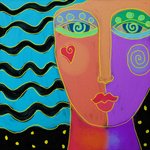 Jackie Ludtke
I am a self-taught artist from Chelsea, Michigan. I love to paint abstract portraits of women and mermaids! I use acrylic paints and my computer to create these funky abstract paintings. My digital paintings are created from a blank page, and I use my mouse as my brush. I do not insert photos - it's all done by hand. I hope you love my work as much as I love creating it! http://society6.com/JackieLudtke?promo=869dc6 Jackie Ludtke joined Society6 on December 10, 2011
More
I am a self-taught artist from Chelsea, Michigan. I love to paint abstract portraits of women and mermaids! I use acrylic paints and my computer to create these funky abstract paintings. My digital paintings are created from a blank page, and I use my mouse as my brush. I do not insert photos - it's all done by hand. I hope you love my work as much as I love creating it!
http://society6.com/JackieLudtke?promo=869dc6
Jackie Ludtke joined Society6 on December 10, 2011.