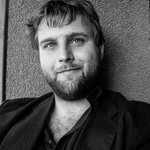 Jack Mcentee
I am a 20 something art addict. I think every person sees the world in their own unique way and that everything can be found beautiful by someone. I want to share only my best images here as I look at the world around me. I study creative writing, film and acting at Flinders University in Adelaide, Australia. I am learning-by-doing both photography and drawing in my free time. Creating and performing is the crux of my life and maybe some of you out there may be part of my audience. Perhaps I will even be one of yours. Jack Mcentee joined Society6 on May 10, 2012
More
I am a 20 something art addict. I think every person sees the world in their own unique way and that everything can be found beautiful by someone. I want to share only my best images here as I look at the world around me.
I study creative writing, film and acting at Flinders University in Adelaide, Australia. I am learning-by-doing both photography and drawing in my free time. Creating and performing is the crux of my life and maybe some of you out there may be part of my audience. Perhaps I will even be one of yours.
Jack Mcentee joined Society6 on May 10, 2012.
Jack Mcentee's Store
8 results
Filter