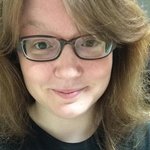 Jaclyn Pendleton
Hi there! My name is Jaclyn Pendleton, and I am an artist of sorts. I've been drawing since I could hold a pencil, and recently my family and friends have persuaded me to share my artwork with the world. I'm all about cutesy fantasy art, and I'm a big fan of video games and anime/manga. Right now I don't have much, but once I figure out the swing of things, I hope to post more artwork soon. Thank you for stopping by my page/store/whatever. :) Jaclyn Pendleton joined Society6 on May 22, 2014
More
Hi there! My name is Jaclyn Pendleton, and I am an artist of sorts.
I've been drawing since I could hold a pencil, and recently my family and friends have persuaded me to share my artwork with the world. I'm all about cutesy fantasy art, and I'm a big fan of video games and anime/manga.
Right now I don't have much, but once I figure out the swing of things, I hope to post more artwork soon. Thank you for stopping by my page/store/whatever. :)
Jaclyn Pendleton joined Society6 on May 22, 2014.
Jaclyn Pendleton's Store
174 results
Filter