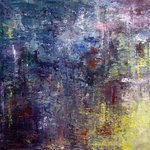 Jacqueline Ferrante
Jacqueline resides in Long Island, New York. She obtained a Bachelor of Arts in Drawing, Painting, and Theatre Production at Northeastern University in Boston, Massachusetts. She is interested in the transformation from the real to the abstract using color and texture to create place and space on a canvas. This is inspired by landscape and its multitude of forms throughout exterior and interior space. www.jacquelineroseart.wix.com/home www.facebook.com/jacquelineroseart Jacqueline Ferrante joined Society6 on September 10, 2013
More
Jacqueline resides in Long Island, New York. She obtained a Bachelor of Arts in Drawing, Painting, and Theatre Production at Northeastern University in Boston, Massachusetts. She is interested in the transformation from the real to the abstract using color and texture to create place and space on a canvas. This is inspired by landscape and its multitude of forms throughout exterior and interior space.
www.jacquelineroseart.wix.com/home www.facebook.com/jacquelineroseart
Jacqueline Ferrante joined Society6 on September 10, 2013.
Jacqueline Ferrante's Store
67 results
Filter