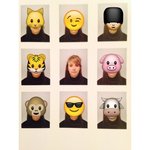 Jade Danielle Smith
Hey, Im Jade and this is where I upload some images for sale, prints, tshirts, pillows etc Prize Winning Photographer and Contemporary Visual Artist BA (HONS) Photography graduate from Southampton Solent. www.jadedaniellesmith.com www.instagram.com/jadesm1th www.diary-jadedaniellesmith.tumblr.com www.facebook.com/jadedaniellesmithimagemaker www.twitter.com/jadesm1th B. 1992 Prizes Winner of Fuji Film's First Curators Choice (Fuji Film Student Awards 2013) Prize Winner of the Enterprise & Professional Practice in Photography Prize 2013 People of Print- Graduate Directors Pick- Runner up Shortlist 2013 Jade Danielle Smith joined Society6 on September 13, 2013
More
Hey, Im Jade and this is where I upload some images for sale, prints, tshirts, pillows etc
Prize Winning Photographer and Contemporary Visual Artist BA (HONS) Photography graduate from Southampton Solent.
www.jadedaniellesmith.com www.instagram.com/jadesm1th www.diary-jadedaniellesmith.tumblr.com www.facebook.com/jadedaniellesmithimagemaker www.twitter.com/jadesm1th
B. 1992
Prizes Winner of Fuji Film's First Curators Choice (Fuji Film Student Awards 2013) Prize Winner of the Enterprise & Professional Practice in Photography Prize 2013 People of Print- Graduate Directors Pick- Runner up Shortlist 2013
Jade Danielle Smith joined Society6 on September 13, 2013.
Jade Danielle Smith's Store
117 results
Filter