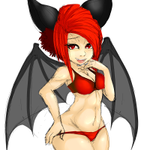 JadedZombieInk
Hello! Welcome to my store! Yes I know nothing is in here! I am a pinup artist as well as a porn/hentai artist. I'll be selling some other kinds of designs but you will also see prints and art packs as time goes on. Feel free to hit me up for commissions as well! I'm having a half off sale due to the increasing need of food in my tummy... so my full color art is 15 dollars! THEN get a sketch from me for 5 if you want! Or just buy the 5 dollar one! Its all up to you, man! THERE ARE GOALS for this sale and it ends on the 15th of July! visit my tumblr for more information: http://jaded-lnk.tumblr.com/ Also my email is neblasalle12@gmail.com if you have any questions or concerns about commissions. JadedZombieInk joined Society6 on June 28, 2014
More
Hello! Welcome to my store! Yes I know nothing is in here! I am a pinup artist as well as a porn/hentai artist. I'll be selling some other kinds of designs but you will also see prints and art packs as time goes on.
Feel free to hit me up for commissions as well! I'm having a half off sale due to the increasing need of food in my tummy... so my full color art is 15 dollars! THEN get a sketch from me for 5 if you want! Or just buy the 5 dollar one! Its all up to you, man! THERE ARE GOALS for this sale and it ends on the 15th of July! visit my tumblr for more information: http://jaded-lnk.tumblr.com/
Also my email is neblasalle12@gmail.com if you have any questions or concerns about commissions.
JadedZombieInk joined Society6 on June 28, 2014.