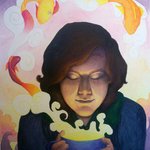 Jade G Art
Jade Goegebuer is an illustrator living in Southern California. She graduated from Laguna College of Art and Design with a BFA in illustration, and is pursuing a career in the illustration field, most specifically, children's books.
She is trained in a variety of mediums from traditional to digital, but is especially at home when using watercolor.
Jade has loved to read since she was very little, and this shows in her fantasy inspired artwork, and unusual mixtures of settings and events.
Check her out at JadegArt.com
Read more
Jade G Art's Store
26 results
Filter