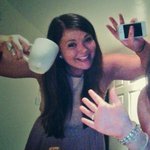 JadeSarah
A 20 year old Interactive Multimedia Design student from Belfast, Northern Ireland. Jade is enthusiastic about web development and design. Jade is a keen animal lover and this shows through the amount of pets she has. Jade has 4 cats, 6 dogs, 3 tortoises and a pond full of fish... yeah, i know right. Jade also enjoys ice-hockey. Jade represented Ireland twice, Once in Sweden in 2009 with Team Ireland and again in Latvia in 2010 with Womens Ireland All Stars - she was assistant captain here. Yeah we know, impressive right?. Jade also volunteers at the Belfast Giants games as scoreboard operator, she is one cool chick! Jade also enjoys tea, especially if someone else makes it for her. *take note* Check out Jade's University Portfolio: http://scm.ulster.ac.uk/~B00617845/ JadeSarah joined Society6 on April 14, 2014
More
A 20 year old Interactive Multimedia Design student from Belfast, Northern Ireland. Jade is enthusiastic about web development and design. Jade is a keen animal lover and this shows through the amount of pets she has. Jade has 4 cats, 6 dogs, 3 tortoises and a pond full of fish... yeah, i know right.
Jade also enjoys ice-hockey. Jade represented Ireland twice, Once in Sweden in 2009 with Team Ireland and again in Latvia in 2010 with Womens Ireland All Stars - she was assistant captain here. Yeah we know, impressive right?. Jade also volunteers at the Belfast Giants games as scoreboard operator, she is one cool chick!
Jade also enjoys tea, especially if someone else makes it for her. take note
Check out Jade's University Portfolio: http://scm.ulster.ac.uk/~B00617845/
JadeSarah joined Society6 on April 14, 2014.