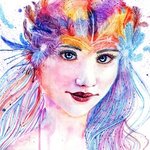 jadesweetbox
Hello! Warm welcome to my society6 Gallery.
My name is Elisabeth Vania, a self-learning fine artist from Indonesia.
My preferred medium is watercolor and my preferred style is surrealism. I enjoy other mediums too such as acrylic, oil, and graphite pencils. Currently new into learning art, anything can pop up along the way. That's what makes art fun!
Any sales I make here will be saved for my tuition in studying art. No matter how small your purchase, it will help a great deal for me.
Thank you for the visit and enjoy your stay.
Read more