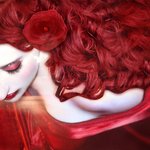 Jaeda DeWalt
I am a self-taught photographic artist, writer and poet. My primary goal as an independent artist is to translate personal experiences from my life into an art form, creating a connecting thread in the universal fabric we share, creating a gateway to emotions deep. It is also important for me to use my art as an awareness heightening medium that addressees social issues, including; child sexual abuse, domestic violence and mental illness/health. Specialties:photographic illustration, conceptual photography, self-portraiture, surrealism, digital photo manipulation, mixed media, digital painting, portrait, poetry, spoken word, film shorts Jaeda DeWalt joined Society6 on April 26, 2014
More
I am a self-taught photographic artist, writer and poet. My primary goal as an independent artist is to translate personal experiences from my life into an art form, creating a connecting thread in the universal fabric we share, creating a gateway to emotions deep.
It is also important for me to use my art as an awareness heightening medium that addressees social issues, including; child sexual abuse, domestic violence and mental illness/health.
Specialties:photographic illustration, conceptual photography, self-portraiture, surrealism, digital photo manipulation, mixed media, digital painting, portrait, poetry, spoken word, film shorts
Jaeda DeWalt joined Society6 on April 26, 2014.