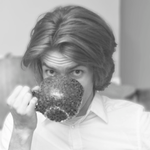 Jake Barry
Designer of logo marks, handmade type, and bits & pieces of the World Wide Web. I name things, make letters, and help people discover good ideas and good people on their screens. My first love is helping people get their dreams off the ground. And I love good coffee. If you are interested in having a custom design done or want to talk about something you are working on, shoot me a note! Jake Barry joined Society6 on July 31, 2013
More
Designer of logo marks, handmade type, and bits & pieces of the World Wide Web. I name things, make letters, and help people discover good ideas and good people on their screens.
My first love is helping people get their dreams off the ground. And I love good coffee.
If you are interested in having a custom design done or want to talk about something you are working on, shoot me a note!
Jake Barry joined Society6 on July 31, 2013.
Jake Barry's Store
18 results
Filter