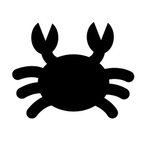 Jake Inlove
"It's all crab!" No one in the world has designed as many crab objects as we have. CrabDesigns is all about designing things with crabs on! Anything you could want containing an image of a crab and we can make it. Furthermore, CrabDesigns make customized t-shirts, computer sleeves, and cups etc. Just contact us on Crabdesigns.com/ask and we'll make a unique design for you FREE (of course you have to pay for the object if you buy it, but the design is free). If you wanna get in touch immediately, contact our founder, Jake Inlove, on: jake@jakeinlove.com Jake Inlove joined Society6 on May 12, 2016
More
"It's all crab!"
No one in the world has designed as many crab objects as we have.
CrabDesigns is all about designing things with crabs on! Anything you could want containing an image of a crab and we can make it.
Furthermore, CrabDesigns make customized t-shirts, computer sleeves, and cups etc. Just contact us on Crabdesigns.com/ask and we'll make a unique design for you FREE (of course you have to pay for the object if you buy it, but the design is free).
If you wanna get in touch immediately, contact our founder, Jake Inlove, on: jake@jakeinlove.com
Jake Inlove joined Society6 on May 12, 2016.