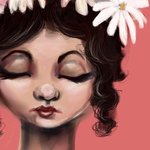 Jaleesa McLean
Hello, My name is Jaleesa McLean. I'm an Illustrator and Graphic Designer, from Saint Pauls, North Carolina. I've always loved to draw and paint since I was very young, but what I love more than drawing and painting is getting to share my talent with others. Be Sure to check out my other works at http://www.wix.com/mcleanjaleesa/jojinco or visit my fan page on Facebook at Jaleesa McLean Creative. Jaleesa McLean joined Society6 on December 28, 2011
More
Hello,
My name is Jaleesa McLean. I'm an Illustrator and Graphic Designer, from Saint Pauls, North Carolina. I've always loved to draw and paint since I was very young, but what I love more than drawing and painting is getting to share my talent with others.
Be Sure to check out my other works at http://www.wix.com/mcleanjaleesa/jojinco or visit my fan page on Facebook at Jaleesa McLean Creative.
Jaleesa McLean joined Society6 on December 28, 2011.