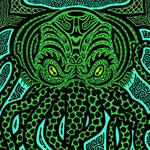 James A. Bogner
I am the weird kid that sat behind you in class and drew funny pictures that got us both in trouble. I am still drawing, but have not been sent to the principal's office in years.
Since 1980, I have been exploring line and form, shape and contrast, whimsy and emotion. I was born colorblind, which is why many of my works are in black and white. I still see colors of course, but it's still interesting either way!
I thank you for taking the time to enjoy my art!
Read more
James A. Bogner's Store
Filter