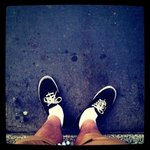 James Kirkup
I'm currently based as a digital designer at Poke London. Previously, I worked for five years as a designer at Head. Before that I interend at Suburb. Back in 2009 I founded Fragment. I also do various things for Double Denim Records. This site holds a selection of my freelance and agency work from the last few years.
Here's a nice quote about me from the guys at Head: "Ideas man James crafts beautiful compositions that create clarity out of complexity. With a strong print and illustration background, he believes in learning by doing and uses sketching as a tool for exploration before transforming his drawings into digital art. Whether developing all the iconography for a major brand or thinking up and refining a new product concept, James never takes the easy option and excels at making the sort of fine adjustments that take a piece of design from good to great. A one-man news source, James is passionate about originality and constantly monitors the digital lifestyle space looking for the next big thing to share with the office. He has contributed to some of our most successful projects including Skifta, our award nominated media shifting service for Qualcomm.
Other verifiable truths: James is Director, writer and designer at Fragment, a quarterly magazine about design, music and fashion. He has designed posters for creative collective Off Modern and album artwork for Bloc Party, Ellie Goulding and Christian AIDS. We estimate James is one chromosome away from being Don Draper."
Portfolio - http://cargocollective.com/jameskirkup
Read more
James Kirkup's Store
Filter
6be4a942-55c5-482e-a3e5-2a90bc97a575

Popular

8e0c0783-8cfa-4aee-8578-1acd46fa4132

All