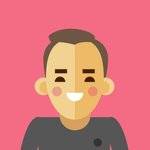 James Thornton
Portfolio: www.jamesthornton.me Collaborations with another designer: www.johnandjames.me "I love the idea that somewhere in the world someone has bought something I made. It's a really lovely thing to be part of someone's life. Even in the smallest of ways." James Thornton is an Illustrator and Designer based in Dublin, Ireland. He's known for his obsession with 8Bit Pixel games, cute avatars and love for colour and experimentation. James Thornton joined Society6 on April 12, 2012
More
Portfolio: www.jamesthornton.me Collaborations with another designer: www.johnandjames.me
"I love the idea that somewhere in the world someone has bought something I made. It's a really lovely thing to be part of someone's life. Even in the smallest of ways."
James Thornton is an Illustrator and Designer based in Dublin, Ireland. He's known for his obsession with 8Bit Pixel games, cute avatars and love for colour and experimentation.
James Thornton joined Society6 on April 12, 2012.