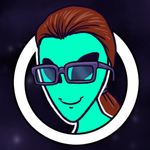 Diane Leonard
Hello! I'm an illustrator from VA. I love anything creepy or paranormal: aliens, cryptids, ghosts- as well as movies and tv shows- so those elements show up a lot in my work. Please check out my website for more: dianeleonardart.com And my Etsy where I have stickers of some of the designs available here: https://www.etsy.com/shop/jleonardart Diane Leonard joined Society6 on May 4, 2014
More
Hello! I'm an illustrator from VA. I love anything creepy or paranormal: aliens, cryptids, ghosts- as well as movies and tv shows- so those elements show up a lot in my work. Please check out my website for more:
dianeleonardart.com
And my Etsy where I have stickers of some of the designs available here: https://www.etsy.com/shop/jleonardart
Diane Leonard joined Society6 on May 4, 2014.