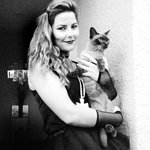 Jane Adson - Creative
When I was an extremely young girl, a fascination for long flowing hair developed when playing with dolls and miniature model ponies. Alongside this, a natural taste for feminine girly things was also acquired, which then moved into an attraction for elaborate organic lines and sophisticated Art Nouveau and Renaissance during more mature years. A Bachelor of Applied Visual Imaging was then completed at UCOL in Palmerston North, New Zealand in 2009, which then triggered a curiosity in Typography and Graphic Design. Further study continued and a Post Graduate Diploma in Secondary School Teaching was successfully completed. It was here, in the classroom that a personal style was adopted and an appetite for street art and illustration grew in intensity. Art students' falling under my sphere of responsibility demonstrated a great deal of inquisitiveness around creativity, and this enabled me to discover other artists and become aligned with illustrators such as Bec Winnel, Minjae Lee and Hush. Current works are primarily mixed media, and are centered on various natural forms with a common reoccurrence, such as the New Zealand native bird, the Tui and their feathered forms, often as they relate to flowing hair of humans linked to my childhood fascination. I seek to create and then beautify numerous objects, by adorning them in decoration and soft organic lines, with a focus on the juxtaposition between classic and contemporary styles. The journey of an artist continues, and it is hoped everyone can join me in that journey too. Find me on: Facebook: Jane Adson - Creative Instagram: @jane.adson Jane Adson - Creative joined Society6 on July 31, 2014
More
When I was an extremely young girl, a fascination for long flowing hair developed when playing with dolls and miniature model ponies. Alongside this, a natural taste for feminine girly things was also acquired, which then moved into an attraction for elaborate organic lines and sophisticated Art Nouveau and Renaissance during more mature years.
A Bachelor of Applied Visual Imaging was then completed at UCOL in Palmerston North, New Zealand in 2009, which then triggered a curiosity in Typography and Graphic Design. Further study continued and a Post Graduate Diploma in Secondary School Teaching was successfully completed. It was here, in the classroom that a personal style was adopted and an appetite for street art and illustration grew in intensity. Art students' falling under my sphere of responsibility demonstrated a great deal of inquisitiveness around creativity, and this enabled me to discover other artists and become aligned with illustrators such as Bec Winnel, Minjae Lee and Hush.
Current works are primarily mixed media, and are centered on various natural forms with a common reoccurrence, such as the New Zealand native bird, the Tui and their feathered forms, often as they relate to flowing hair of humans linked to my childhood fascination. I seek to create and then beautify numerous objects, by adorning them in decoration and soft organic lines, with a focus on the juxtaposition between classic and contemporary styles.
The journey of an artist continues, and it is hoped everyone can join me in that journey too.
Find me on:
Facebook: Jane Adson - Creative Instagram: @jane.adson
Jane Adson - Creative joined Society6 on July 31, 2014.