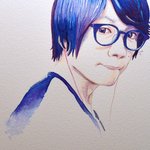 Jane Aviv Brenner
Jane Aviv Brenner is a cathartic watercolor artist. Brenner uses her art to self-reflect, releasing inner thoughts and feelings to create highly saturated personal moments in time. Watercolor is her first love. All work is © Jane Aviv Brenner. All rights reserved. http://www.janeavivbrenner.com/ Jane Aviv Brenner joined Society6 on June 30, 2014
More
Jane Aviv Brenner is a cathartic watercolor artist. Brenner uses her art to self-reflect, releasing inner thoughts and feelings to create highly saturated personal moments in time. Watercolor is her first love.
All work is © Jane Aviv Brenner. All rights reserved.
http://www.janeavivbrenner.com/
Jane Aviv Brenner joined Society6 on June 30, 2014.