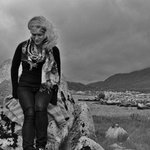 Jane Burson
Jane is a self-taught artist from Texas. She loves people in profile, historic costume, pretty ladies with lots of hair, and animals that are 'so-ugly-they're-beautiful'. More of her work can be found at her dA page: http://janey-jane.deviantart.com and on her art/sketch tumblr: http://janey-jane.tumblr.com Jane Burson joined Society6 on November 7, 2012
More
Jane is a self-taught artist from Texas. She loves people in profile, historic costume, pretty ladies with lots of hair, and animals that are 'so-ugly-they're-beautiful'.
More of her work can be found at her dA page: http://janey-jane.deviantart.com and on her art/sketch tumblr: http://janey-jane.tumblr.com
Jane Burson joined Society6 on November 7, 2012.