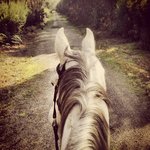 Jane Millard
The Abstract Daily
My name is Jane Millard, I'm an artist who lives & works in country Victoria. My husband & I recently exchanged city living for the good life in the country. As a result I have had more time to spend in my studio making, discovering & learning.
We live in a beautiful part of the world & every day I see something that inspires me. The light & landscape is always changing & I often run outside with my camera to capture the moment. We are surrounded by wildlife & the seasons tend to be extreme with hot dry days and stormy nights.
I have been creating all sorts of items since a very young age, my mother always encourage my artistic adventures & introduced me to many wonderful crafts. We share a love of the handmade & often spend many hours talking about what we are working on & sharing ideas.
I am a graduate of The Victorian College of the Arts (Sculpture) and RMIT (Gold & Silversmithing) and I work in a number of mediums including photography, jewellery, textiles and painting.
I tend to have a number of projects on the go & I really enjoy learning new skills & putting them to work. My studio is shared with my cat Marcus & my three pugs Beatrix, Olive & Pippa.
You can follow me on: Instagram @theabstractdaily Twitter @theabstractday My blog http://theabstractdaily.blogspot.com.au/ Check out my Etsy store https://www.etsy.com/au/shop/janemillardstudio
Read more
Jane Millard's Store
129 results
Filter