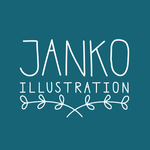 Janko Illustration
Hello! Szia! My name is Balázs. I'm just a boy from Hungary, who love to do creative things. I try to watch at least one movie daily and read books to stay inspirated for a long time. contact: janko.illustration@gmail.com http://jankoba.tumblr.com http://www.redbubble.com/people/jankoba https://www.facebook.com/janko.illustrator https://www.instagram.com/janko_illustration Janko Illustration joined Society6 on June 11, 2013
More
Hello! Szia! My name is Balázs. I'm just a boy from Hungary, who love to do creative things. I try to watch at least one movie daily and read books to stay inspirated for a long time.
contact: janko.illustration@gmail.com
http://jankoba.tumblr.com http://www.redbubble.com/people/jankoba https://www.facebook.com/janko.illustrator https://www.instagram.com/janko_illustration
Janko Illustration joined Society6 on June 11, 2013.