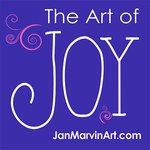 Jan Marvin
Jan Marvin creates art that conveys 'The Art of Joy' through her unique paintings, digital art, and photography. As a nature lover, her art has an organic and whimsical quality while utilizing rich, saturated colors. She is inspired by the joy of the Lord in her life. With her overall experience as an Art Director, Video Editor, A.S.I.D. Interior Designer, Commercial Producer and Production Tech in the TV industry, she brings an eye for color, design and composition to her art. She has won numerous awards for her designs and has displayed her art in Georgia and South Carolina. Here is a link to an article from The Daniel Island News that was written about her and her art: http://www.thedanielislandnews.com/blissful-brushstrokes-amid-design-deadlines-jan-marvin-julys-honeycomb-artist Her original acrylic paintings are available for purchase. Contact her and see more of her art at www.JanMarvinArt.com. 'You make known to me the path of life; you will fill me with joy in your presence, with eternal pleasures at your right hand. - Psalm 16:11. ALL RIGHTS RESERVED, COPYRIGHT PROTECTED Facebook: https://www.facebook.com/janmarvinstudios Twitter: https://twitter.com/janmarvin1 Instagram: https://www.instagram.com/jansartandtotes/ Google Plus: https://plus.google.com/u/0/103345969149166232283/posts Houzz: http://www.houzz.com/pro/marvinjan/jan-marvin-art-studio Seek first the kingdom of God and his righteousness, and all these things will be added to you. Matthew 6:33 Jan Marvin joined Society6 on September 17, 2014
More
Jan Marvin creates art that conveys 'The Art of Joy' through her unique paintings, digital art, and photography. As a nature lover, her art has an organic and whimsical quality while utilizing rich, saturated colors. She is inspired by the joy of the Lord in her life.
With her overall experience as an Art Director, Video Editor, A.S.I.D. Interior Designer, Commercial Producer and Production Tech in the TV industry, she brings an eye for color, design and composition to her art.
She has won numerous awards for her designs and has displayed her art in Georgia and South Carolina. Here is a link to an article from The Daniel Island News that was written about her and her art: http://www.thedanielislandnews.com/blissful-brushstrokes-amid-design-deadlines-jan-marvin-julys-honeycomb-artist
Her original acrylic paintings are available for purchase. Contact her and see more of her art at www.JanMarvinArt.com.
'You make known to me the path of life; you will fill me with joy in your presence, with eternal pleasures at your right hand. - Psalm 16:11.
ALL RIGHTS RESERVED, COPYRIGHT PROTECTED
Facebook: https://www.facebook.com/janmarvinstudios Twitter: https://twitter.com/janmarvin1 Instagram: https://www.instagram.com/jansartandtotes/ Google Plus: https://plus.google.com/u/0/103345969149166232283/posts Houzz: http://www.houzz.com/pro/marvinjan/jan-marvin-art-studio
Seek first the kingdom of God and his righteousness, and all these things will be added to you. Matthew 6:33
Jan Marvin joined Society6 on September 17, 2014.