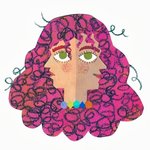 Janna Morton
Janna Morton is a Baltimore based Illustrator and a graduate of the Maryland Institute College of Art. She enjoys watching Japanese dramas, reading medieval romances, and uncovering astonishingly hideous tchotkes in local thrift stores.
Some clients include Plansponsor, Bookforum, German News (India), and City Paper (Baltimore).
Janna's work has been honored by American Illustration and CMYK Magazine's Top New Creatives #51. Her work has been exhibited in the Corcoran Gallery of Art, Light Grey Art Lab, and Spur Gallery. Her work has been featured in The Fox is Black's desktop wallpaper series and in Brown Paper Bag's Collage Exchange Swap. Janna is a regular contributor on Ten Paces and Draw.
For freelance, commissions, and all other inquiries please call Janna at 443-633-4886 or email her at jannamorton@gmail.com.
Read more
Janna Morton's Store
Filter