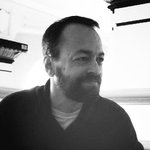 Jason Baskin
Jason Baskin is a Portland, Oregon-based​ ​artist/educator. He has been creating artwork and animation for print, broadcast, and game projects since 1991, producing character designs, 3D models, rigs, and animations for clients such as LAIKA, SEGA, Disney Interactive, Intel, and Columbia Sportswear. Recently, Jason created chapter book illustrations for Ordinary Dogs, Extraordinary Friendships by Pam Flowers​ (Graphic Arts Press, 2013). His loose, expressive pen and ink style earned praise from Kirkus reviews. For the past nine years, Jason has served as a full-time 3D Animation Instructor at the Art Institute of Portland. He has also created original online course content for Treehouse Learning, Rocky Mountain College of Art and Design, and Lynda.com. Jason earned his MFA in Illustration from Savannah College of Art and Design in 2014. You can see more of Jason's illustration work at www.baskindraws.com. Jason Baskin joined Society6 on September 19, 2015
More
Jason Baskin is a Portland, Oregon-based​ ​artist/educator. He has been creating artwork and animation for print, broadcast, and game projects since 1991, producing character designs, 3D models, rigs, and animations for clients such as LAIKA, SEGA, Disney Interactive, Intel, and Columbia Sportswear. Recently, Jason created chapter book illustrations for Ordinary Dogs, Extraordinary Friendships by Pam Flowers​ (Graphic Arts Press, 2013). His loose, expressive pen and ink style earned praise from Kirkus reviews.
For the past nine years, Jason has served as a full-time 3D Animation Instructor at the Art Institute of Portland. He has also created original online course content for Treehouse Learning, Rocky Mountain College of Art and Design, and Lynda.com. Jason earned his MFA in Illustration from Savannah College of Art and Design in 2014. You can see more of Jason's illustration work at www.baskindraws.com.
Jason Baskin joined Society6 on September 19, 2015.
Jason Baskin's Store
26 results
Filter