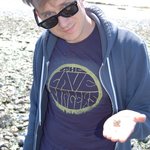 Jason Busse
Hi, I'm Jason and I'm a Seattle-based artist and illustrator. My first work was an unruly mixed-media piece of discarded boards, grocery bag papier-mâché, and paint. Now I work in digital, graphite, and primarily charcoal, with a focus on portraiture. I focus my work on making the mundane more interesting and sluicing out the beauty in each study. Faces intrigue me more than anything. I am still fresh and new in my experience as an artist and learn new and profound lessons with each new piece I complete (and many which I admit I abandon!). More than anything else, I am happiest when my work makes others happy. Thank you so incredibly much for supporting my work! IG: jkphnx Jason Busse joined Society6 on August 31, 2014
More
Hi, I'm Jason and I'm a Seattle-based artist and illustrator.
My first work was an unruly mixed-media piece of discarded boards, grocery bag papier-mâché, and paint. Now I work in digital, graphite, and primarily charcoal, with a focus on portraiture.
I focus my work on making the mundane more interesting and sluicing out the beauty in each study. Faces intrigue me more than anything.
I am still fresh and new in my experience as an artist and learn new and profound lessons with each new piece I complete (and many which I admit I abandon!).
More than anything else, I am happiest when my work makes others happy.
Thank you so incredibly much for supporting my work!
IG: jkphnx
Jason Busse joined Society6 on August 31, 2014.