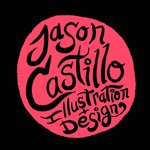 Jason Castillo
I am an illustrator living in Chicago with my wife and two cats. I started drawing as a child by learning to draw the Ninja Turtles. At the tender age of 13 I learned Photoshop on my Aunt's computer by creating my own NBA trading cards with awesome lightning storm backgrounds. My art and interests are diverse. I draw inspiration from pop-culture, my cats, my city, and thinking about how unfathomably huge the universe is compared to our little rock flying through space. www.jasoncastillo.com www.instagram.com/jasoncastillo www.twitter.com/jasoncastillo Jason Castillo joined Society6 on February 26, 2010
More
I am an illustrator living in Chicago with my wife and two cats. I started drawing as a child by learning to draw the Ninja Turtles. At the tender age of 13 I learned Photoshop on my Aunt's computer by creating my own NBA trading cards with awesome lightning storm backgrounds.
My art and interests are diverse. I draw inspiration from pop-culture, my cats, my city, and thinking about how unfathomably huge the universe is compared to our little rock flying through space.
www.jasoncastillo.com www.instagram.com/jasoncastillo www.twitter.com/jasoncastillo
Jason Castillo joined Society6 on February 26, 2010.