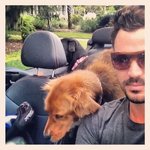 jasondavis
Jason Davis has been a freelance graphic designer, illustrator and painter. His clientele includes a diverse array of businesses and organizations, both large and small, including; Arby's, NBA, Footlocker, Lucas Films, Rawle-Murdy, Piggly Wiggly and Creative Goods. He is thrilled by the interesting design projects he has completed since going into business for himself. From logos to posters to brochures to children's books, he enjoys the creative challenge, working directly with his clients, and pushing himself to produce the best work possible. Drawing and painting since childhood, he always knew that art would have a place in his life and has always been a passionate focus. After stints in New York, Los Angeles, and Greenville, SC, he now makes his home back in Charleston,SC where he lives with super pup cooper. HUMILITY ASIDE -I'VE CREATED NUMEROUS PAINTINGS FOR SOME WELL ESTABLISHED CLIENTS -NAMED BEST ARTIST/DESIGNER -WORKED ON COMMERCIALS FOR : ARBY'S, NBA, & RAWLE MURDY....AND STARRED IN COMMERCIALS FOR HEINEKEN & AMSTEL LIGHT IN A PREVIOUS LIFE. STUFF I CAN DO!! -ART DIRECT -TRADITIONAL CREATIVE -INTERACTIVE CREATIVE -CLIENT RELATIONSHIPS -RECITE MOVIE QUOTES...ANCHORMAN IMPARTICULAR jasondavis joined Society6 on October 15, 2012
More
Jason Davis has been a freelance graphic designer, illustrator and painter. His clientele includes a diverse array of businesses and organizations, both large and small, including; Arby's, NBA, Footlocker, Lucas Films, Rawle-Murdy, Piggly Wiggly and Creative Goods. He is thrilled by the interesting design projects he has completed since going into business for himself. From logos to posters to brochures to children's books, he enjoys the creative challenge, working directly with his clients, and pushing himself to produce the best work possible. Drawing and painting since childhood, he always knew that art would have a place in his life and has always been a passionate focus. After stints in New York, Los Angeles, and Greenville, SC, he now makes his home back in Charleston,SC where he lives with super pup cooper.
HUMILITY ASIDE -I'VE CREATED NUMEROUS PAINTINGS FOR SOME WELL ESTABLISHED CLIENTS -NAMED BEST ARTIST/DESIGNER -WORKED ON COMMERCIALS FOR : ARBY'S, NBA, & RAWLE MURDY....AND STARRED IN COMMERCIALS FOR HEINEKEN & AMSTEL LIGHT IN A PREVIOUS LIFE.
STUFF I CAN DO!! -ART DIRECT -TRADITIONAL CREATIVE -INTERACTIVE CREATIVE -CLIENT RELATIONSHIPS -RECITE MOVIE QUOTES...ANCHORMAN IMPARTICULAR
jasondavis joined Society6 on October 15, 2012.