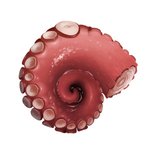 Jason Flack
Jason Flack is an Illustrator and Designer currently working in the video game industry. Previously he worked for 4 years as an Illustrator and Art Director in the marketing/advertising business. Jason's art style has been described as "What?" "Tentacles, again", and "I don't get it" by his peers and friends. He enjoys good beers, several movies, and microwave nachos. For more information feel free to contact him at jasoncflack@gmail.com or visit his website www.jasoncflack.com Jason Flack joined Society6 on March 11, 2015
More
Jason Flack is an Illustrator and Designer currently working in the video game industry. Previously he worked for 4 years as an Illustrator and Art Director in the marketing/advertising business. Jason's art style has been described as "What?" "Tentacles, again", and "I don't get it" by his peers and friends. He enjoys good beers, several movies, and microwave nachos.
For more information feel free to contact him at jasoncflack@gmail.com or visit his website www.jasoncflack.com
Jason Flack joined Society6 on March 11, 2015.
Jason Flack's Store
48 results
Filter