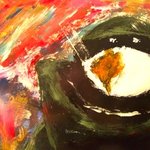 Jason L Cohen Fine Art
I am a one of a kind artist/painter who enjoys doing abstract pieces of modern pop culture and Americana themes. Follow me on: https://www.facebook.com/paintingsbyjason http://www.instagram.com/jcohen_paints https://twitter.com/theJasonCohen © Copyright Please respect my copyright. All works are copyrighted. Any repost on any media without my explicit permission is prohibited. If you want to use my photo for private/commercial use, please contact me here Jayco55@hotmail.com Thanks for watching! Jason L Cohen Fine Art joined Society6 on January 12, 2015
More
I am a one of a kind artist/painter who enjoys doing abstract pieces of modern pop culture and Americana themes.
Follow me on:
https://www.facebook.com/paintingsbyjason http://www.instagram.com/jcohen_paints https://twitter.com/theJasonCohen
© Copyright Please respect my copyright. All works are copyrighted. Any repost on any media without my explicit permission is prohibited. If you want to use my photo for private/commercial use, please contact me here Jayco55@hotmail.com Thanks for watching!
Jason L Cohen Fine Art joined Society6 on January 12, 2015.
Jason L Cohen Fine Art's Store
203 results
Filter