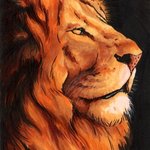 Jason Rutherford
I'm a interaction designer by day and aspiring artist by night. For the first half of my life I always I thought art and illustration would be my professional path. Somewhere around the turn of the century I got diverted by web and application design. Recently I rediscovered my passion for illustrating and do not plan on misplacing it again. Jason Rutherford joined Society6 on February 9, 2013
More
I'm a interaction designer by day and aspiring artist by night.
For the first half of my life I always I thought art and illustration would be my professional path. Somewhere around the turn of the century I got diverted by web and application design.
Recently I rediscovered my passion for illustrating and do not plan on misplacing it again.
Jason Rutherford joined Society6 on February 9, 2013.