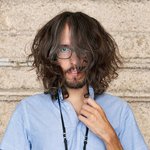 Jason Travis
Jason Travis or 'J Trav' as he is known to most, approaches each day with a huge grin and seemingly boundless energy as a graphic designer, musician and photographer. Central to all of these endeavors is Jason's love of people and relationships. After graduating from Ernest G. Welch School of Design in 2007, he embarked on his most far-reaching project to date, the Persona photo series. This project has resonated with viewers winning an award from PDN, as well as appearing on CNN, Gizmodo, New York Times, USA Today, Marie Claire, and more. jasontravisphoto.com Jason Travis joined Society6 on February 8, 2013
More
Jason Travis or 'J Trav' as he is known to most, approaches each day with a huge grin and seemingly boundless energy as a graphic designer, musician and photographer. Central to all of these endeavors is Jason's love of people and relationships. After graduating from Ernest G. Welch School of Design in 2007, he embarked on his most far-reaching project to date, the Persona photo series. This project has resonated with viewers winning an award from PDN, as well as appearing on CNN, Gizmodo, New York Times, USA Today, Marie Claire, and more.
jasontravisphoto.com
Jason Travis joined Society6 on February 8, 2013.