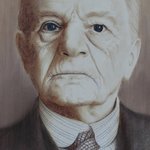 JBConservator
John F. Black | Artist - Conservator is the text on this simple card that my father used for his business for over 40 years. In the late '70s he sold his interest in a local art gallery and frame shop to pursue what would become a 40+ year career in art restoration. You might say he is retired at 79 but on any given day there is likely to be an old family portrait, antique music box or collectible stoneware jug sitting on his dining room table either on its way to his basement studio or awaiting the client to return to pick up the item that has been given a new lease on life. I was thrilled to see him return to creating his own artwork over the past few years. I grew up in the same house with the basement studio. The walls of the house were decorated with several works of art that he created while in art school or when he had a little spare time in his early career as a commercial artist before finding himself with 4 kids to raise. Being the youngest, all of his original artwork was created before I was born and they were like siblings to me. Like the redhead that greets you at the top of the page. For this S6 shop, he is offering prints of these original works completed in the 1960s. I hope they may become companions and friends to you as they were to me growing up. JBConservator joined Society6 on December 16, 2016
More
John F. Black | Artist - Conservator is the text on this simple card that my father used for his business for over 40 years. In the late '70s he sold his interest in a local art gallery and frame shop to pursue what would become a 40+ year career in art restoration. You might say he is retired at 79 but on any given day there is likely to be an old family portrait, antique music box or collectible stoneware jug sitting on his dining room table either on its way to his basement studio or awaiting the client to return to pick up the item that has been given a new lease on life.
I was thrilled to see him return to creating his own artwork over the past few years. I grew up in the same house with the basement studio. The walls of the house were decorated with several works of art that he created while in art school or when he had a little spare time in his early career as a commercial artist before finding himself with 4 kids to raise. Being the youngest, all of his original artwork was created before I was born and they were like siblings to me. Like the redhead that greets you at the top of the page.
For this S6 shop, he is offering prints of these original works completed in the 1960s. I hope they may become companions and friends to you as they were to me growing up.
JBConservator joined Society6 on December 16, 2016.
JBConservator's Store
46 results
Filter