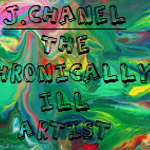 IllArtPeace
IllArtPeace.com Jessica Chanel, The Chronically Ill Artist, is a self-taught mixed media artist. She creates mixed media portraits, abstract paintings, graphic art designs, and upcycled book art. Jessica's life was upended in her teens when she began exhibiting symptoms of eosinophilic gastrointestinal disease (EGID); a rare, incurable, and unpredictable illness that causes food allergies, cyclical vomiting, abdominal pain, nausea and many other symptoms. Jessica taught herself how to sketch portraits at doctor's appointments as a way to escape the chaos of chronic illness and gain a bit of peace. Art is still a powerful source of peace for her, and she hopes the art she creates brings peace to others, especially those with chronic illnesses. Website: IllArtPeace.com Social Media: @IllArtPeace IllArtPeace joined Society6 on September 9, 2015
More
IllArtPeace.com Jessica Chanel, The Chronically Ill Artist, is a self-taught mixed media artist. She creates mixed media portraits, abstract paintings, graphic art designs, and upcycled book art. Jessica's life was upended in her teens when she began exhibiting symptoms of eosinophilic gastrointestinal disease (EGID); a rare, incurable, and unpredictable illness that causes food allergies, cyclical vomiting, abdominal pain, nausea and many other symptoms. Jessica taught herself how to sketch portraits at doctor's appointments as a way to escape the chaos of chronic illness and gain a bit of peace. Art is still a powerful source of peace for her, and she hopes the art she creates brings peace to others, especially those with chronic illnesses.
Website: IllArtPeace.com Social Media: @IllArtPeace
IllArtPeace joined Society6 on September 9, 2015.
IllArtPeace's Store
10 results
Filter