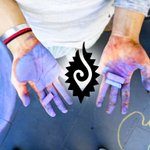 jchorona
Jiya is a street artist who travels and draws on the pavement in the heart of the big cities like Melboure, Paris, London and many more in soon future. Her work is a form of prayer which is dedicated to the world to raise public awareness about endangered cultures and animals. Most of the drawings are originally from the pavement of different cities, because of that, you can see the different sizes of tiles. Related stories of each artwork can be found on her website. (http://jchorona.com) Please support her journey by purchasing her artworks. Follow her journey through Instagram @jchorona jchorona joined Society6 on January 18, 2018
More
Jiya is a street artist who travels and draws on the pavement in the heart of the big cities like Melboure, Paris, London and many more in soon future. Her work is a form of prayer which is dedicated to the world to raise public awareness about endangered cultures and animals.
Most of the drawings are originally from the pavement of different cities, because of that, you can see the different sizes of tiles. Related stories of each artwork can be found on her website. (http://jchorona.com)
Please support her journey by purchasing her artworks.
Follow her journey through Instagram @jchorona
jchorona joined Society6 on January 18, 2018.
jchorona's Store
25 results
Filter