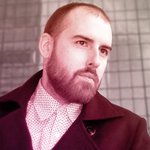 James Duthie
I'm a self taught artist who grew up in Virginia and currently lives in Austin, TX. I went to art school in Pittsburgh and D.C. but found it lacking in education and high in cost, so now I continue my artistic journey solo. Hopefully I'm able to create at least something eye catching worthy of your time and/or money. Thanks for stopping by! Like/Share me at https://www.facebook.com/JDuthieART James Duthie joined Society6 on January 6, 2016
More
I'm a self taught artist who grew up in Virginia and currently lives in Austin, TX. I went to art school in Pittsburgh and D.C. but found it lacking in education and high in cost, so now I continue my artistic journey solo.
Hopefully I'm able to create at least something eye catching worthy of your time and/or money. Thanks for stopping by!
Like/Share me at https://www.facebook.com/JDuthieART
James Duthie joined Society6 on January 6, 2016.