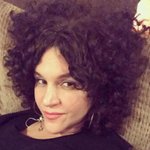 jeannieshaw
Visual Artist & Writer. Love music, color, OOTDs, OOTNs, flow and ease because all of it is art to me. I worked. I studied. I worked again. Then I ran a hotel. Then I shut it down and I took some deep breaths. Then I worked again and now I paint and draw and write and stuff. Following My Bliss, That's All. I just wanna create things and watch them move. Blog: www.nourishmesweetly.com | Web: www.jeannieshaw.com IG: @jeannieshaw.artist @nourishmesweetly FB: www.facebook.com/jeannieshaw.artist jeannieshaw joined Society6 on May 14, 2018
More
Visual Artist & Writer. Love music, color, OOTDs, OOTNs, flow and ease because all of it is art to me.
I worked. I studied. I worked again. Then I ran a hotel. Then I shut it down and I took some deep breaths. Then I worked again and now I paint and draw and write and stuff.
Following My Bliss, That's All. I just wanna create things and watch them move.
Blog: www.nourishmesweetly.com | Web: www.jeannieshaw.com
IG: @jeannieshaw.artist @nourishmesweetly FB: www.facebook.com/jeannieshaw.artist
jeannieshaw joined Society6 on May 14, 2018.