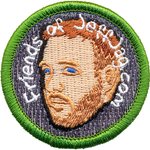 JeffJag
I'm an artist living in Denver, Colorado who specializes in colorful, vibrant, fluid, psychedelic abstract paintings and illustrations in a variety of media. My art is inspired by use of color, shape, form/space, geometry, and obscene amounts of detail to create a visual noise pattern that whelms the eye. I paint in watercolor, acrylic, and digitally. I sketch in pen and pencil. I do a bit of photography and video as well. I post real-time painting updates on my facebook page: http://facebook.com/jeffjag.art If you're on tumblr or twitter, follow me at either for regular updates. http://artblog.jeffjag.com and @jeffjag are where I post updates about upcoming shows, new art, new sketches, photos, videos and time-lapse movies of my painting process and much more. -- Updated daily! About those videos, you can see all of them over at my channel, and subscribe to get my new videos every other Friday - http://youtube.com/user/jeffjag/ JeffJag joined Society6 on October 3, 2012
More
I'm an artist living in Denver, Colorado who specializes in colorful, vibrant, fluid, psychedelic abstract paintings and illustrations in a variety of media. My art is inspired by use of color, shape, form/space, geometry, and obscene amounts of detail to create a visual noise pattern that whelms the eye. I paint in watercolor, acrylic, and digitally. I sketch in pen and pencil. I do a bit of photography and video as well.
I post real-time painting updates on my facebook page: http://facebook.com/jeffjag.art
If you're on tumblr or twitter, follow me at either for regular updates. http://artblog.jeffjag.com and @jeffjag are where I post updates about upcoming shows, new art, new sketches, photos, videos and time-lapse movies of my painting process and much more. -- Updated daily!
About those videos, you can see all of them over at my channel, and subscribe to get my new videos every other Friday - http://youtube.com/user/jeffjag/
JeffJag joined Society6 on October 3, 2012.