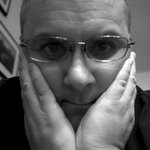 Jeff Lange
Jeff Lange is a non-erudite digital illustration hobbyist who strives to convey both emotion and non-emotion through his art.
His style has been described as 'hack-nouveau' and Lange leads his peers in anonymity and planned obsolescence. His future works include major publication prints and virtual museum pieces. Lange was named The National Art House's "Art Darling of the Decade 2030".
He currently lives among the trees and frogs on the east coast with his awesome Kazakh son, his Basset Hound Annie and woodland creatures of suspect repute.
Twitter: @jefflange Tumblr: http://jefflange.tumblr.com/ Google+: http://profiles.google.com/jefflange society6: http://society6.com/jefflange 500px: http://500px.com/JeffreyLange
Read more