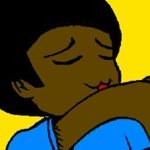 Bouké
I'm an expanding designer/musician/photographer who wants to prosper in all I do. Every idea is double- and triple-checked. Each brainstorm is a hurricane. Every click of the mouse has it's purpose and does not go wasted. I consult with the best and I eat my vegetables. I like to keep it simple, and tell the story without writing it. God gave me hands, so with them… I brand. Put me in, coach. If you would like to see what I am currently working on, visit my Dribbble profile, listed below. Portfolio: http://www.cargocollective.com/jeiji Phone: +1.209.740.6802 Email: jeijidesign@gmail.com Twitter: https://twitter.com/Jeijisan Dribbble: http://dribbble.com/jeiji Facebook: https://www.facebook.com/pages/Jeiji-Identity/114818685206901 SoundCloud: http://soundcloud.com/jeiji Bouké joined Society6 on May 26, 2010
More
I'm an expanding designer/musician/photographer who wants to prosper in all I do. Every idea is double- and triple-checked. Each brainstorm is a hurricane. Every click of the mouse has it's purpose and does not go wasted. I consult with the best and I eat my vegetables. I like to keep it simple, and tell the story without writing it. God gave me hands, so with them… I brand. Put me in, coach.
If you would like to see what I am currently working on, visit my Dribbble profile, listed below.
Portfolio: http://www.cargocollective.com/jeiji Phone: +1.209.740.6802 Email: jeijidesign@gmail.com Twitter: https://twitter.com/Jeijisan Dribbble: http://dribbble.com/jeiji Facebook: https://www.facebook.com/pages/Jeiji-Identity/114818685206901 SoundCloud: http://soundcloud.com/jeiji
Bouké joined Society6 on May 26, 2010.