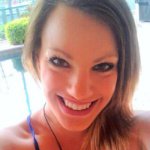 Jena Alane Designs
Beginning a new and exciting adventure in design and I can't wait to share it with all of you! I have been into photography and creative design for years and I am finally taking the step out to see where it may lead. I'm inspired by anything vintage, indie rock music (The Black Keys are one of my favorites! If you're looking for a great band, check out The xx.) and I love typography. I am a self proclaimed coffee addict, have an intense need to be in the sun, and I love people who are quirky and weird. I'm a Madison, Wisconsin native and I carry my midwestern pride with me where ever I go. You can find me wearing aviators, leather jackets, and sometimes being referred to as "Top Gun". Very soon I'm getting a Frenchie puppy and you can be sure she will inspire some of my art. Feel free to leave a comment on this page or if you have a question (or even a design request), please email me at JenaAlaneDesigns@Gmail.com. I'd love to make a personalized art piece just for you! All pieces on here are made to order, so when you order something you know it is being made especially for you. Enjoy my work here and thank you so much for stopping by! Facebook: Jena Alane Designs Twitter: @JenaAlane Insta: @Jena.Alane Jena Alane Designs joined Society6 on July 13, 2014
More
Beginning a new and exciting adventure in design and I can't wait to share it with all of you! I have been into photography and creative design for years and I am finally taking the step out to see where it may lead. I'm inspired by anything vintage, indie rock music (The Black Keys are one of my favorites! If you're looking for a great band, check out The xx.) and I love typography. I am a self proclaimed coffee addict, have an intense need to be in the sun, and I love people who are quirky and weird. I'm a Madison, Wisconsin native and I carry my midwestern pride with me where ever I go. You can find me wearing aviators, leather jackets, and sometimes being referred to as "Top Gun". Very soon I'm getting a Frenchie puppy and you can be sure she will inspire some of my art.
Feel free to leave a comment on this page or if you have a question (or even a design request), please email me at JenaAlaneDesigns@Gmail.com. I'd love to make a personalized art piece just for you! All pieces on here are made to order, so when you order something you know it is being made especially for you. Enjoy my work here and thank you so much for stopping by!
Facebook: Jena Alane Designs Twitter: @JenaAlane Insta: @Jena.Alane
Jena Alane Designs joined Society6 on July 13, 2014.