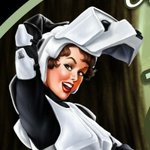 Jenn DePaola Art
Greetings, I'm a digital artist & designer. I am a fan of geeky/nerdy things from the realms of Science Fiction and Fantasy, as well as everything in between. I create art that I have a connection with and hope to share it with other like-minded individuals and fans. You can find my website at: www.jenndepaola.com Twitter: @JennDePaola Facebook: facebook.com/jenndepaolaart Tumblr: jenndepaolaart.tumblr.com Pinterest: pinterest.com/jenndepaola Jenn DePaola Art joined Society6 on August 19, 2015
More
Greetings, I'm a digital artist & designer. I am a fan of geeky/nerdy things from the realms of Science Fiction and Fantasy, as well as everything in between. I create art that I have a connection with and hope to share it with other like-minded individuals and fans.
You can find my website at: www.jenndepaola.com Twitter: @JennDePaola Facebook: facebook.com/jenndepaolaart Tumblr: jenndepaolaart.tumblr.com Pinterest: pinterest.com/jenndepaola
Jenn DePaola Art joined Society6 on August 19, 2015.