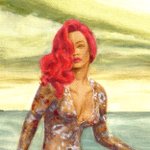 Jennie Rutz
www.jennierutz.com
My work seems to have a particular focus on the feminine, perhaps due to the influence of growing up with 3 sisters. Although when I was young I wanted to be the brother in the family and was a dedicated tomboy, I've since learned to embrace the glory of being female. I'm particularly intrigued by the dynamics between women and men and enjoy exploring relationships and life from a woman's perspective through my art.
While I grew up in the Canadian badlands surrounded by prairies, it's the beach that inspires me. I currently reside on the Sunshine Coast of Australia where the beaches stretch for miles. Prior to moving here I lived in Italy, another place that greatly inspires me and my art.
​
In 2013 I opened my first solo exhibition in Palermo, Sicily, entitled 'Boys & Girls, Girls, Girls' which featured surfing and the sea as it's prominent theme, followed by 'It Happened in Mondello' in 2014 which was a series of paintings set in the beach neighborhood of Palermo. My latest exhibitions have been with RAW Artists Australia in the Gold Coast in 2015 and Brisbane in 2019. ​
My background is in the animation industry and I've worked in a wide variety of roles and styles for television animation and illustration projects.
Now that I'm a mother and experiencing a whole new side to life and womanhood, I feel my inspirations and techniques solidifying into a unified vision for the images which I'm compelled to create.
Read more
Jennie Rutz's Store
Filter