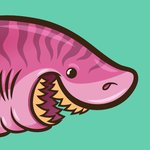 Jennifer C Smith
I'm Jennifer, an illustrator based in New Zealand. I am passionate in creating bright and colorful vector illustrations for t-shirts and stickers. My influences are a mixed bag of cuteness, cartoons, animals, horror and dark humor. You can find me on most social media. https://www.facebook.com/JenniferSmithIllustration/ https://twitter.com/jenniferclsmith https://www.instagram.com/jennifersmithart/ Jennifer C Smith joined Society6 on December 18, 2015
More
I'm Jennifer, an illustrator based in New Zealand.
I am passionate in creating bright and colorful vector illustrations for t-shirts and stickers. My influences are a mixed bag of cuteness, cartoons, animals, horror and dark humor. You can find me on most social media.
https://www.facebook.com/JenniferSmithIllustration/ https://twitter.com/jenniferclsmith https://www.instagram.com/jennifersmithart/
Jennifer C Smith joined Society6 on December 18, 2015.