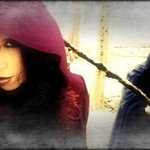 Roman and Jennifer
Jennifer was born a strange, pale, and quiet child, a ghost scared of ghosts.... Originally from new Hampshire, she studied acting at The New Hampshire Institute of Art. She grew up to become an actress, magician's assistant, artist, writer, dancer, and muse. She currently haunts lonely places in Ohio, though she is not dead. Roman is a Russian misanthrope, golden god, dancer, musician, artist, and photographer. Spends his time turning noises into musical genius, forgotten places into visual masterpieces, and a ghost girl into a muse. He also does impersonations of Sean Connery, and a variety of animals. Roman and Jennifer joined Society6 on March 20, 2013
More
Jennifer was born a strange, pale, and quiet child, a ghost scared of ghosts.... Originally from new Hampshire, she studied acting at The New Hampshire Institute of Art. She grew up to become an actress, magician's assistant, artist, writer, dancer, and muse. She currently haunts lonely places in Ohio, though she is not dead.
Roman is a Russian misanthrope, golden god, dancer, musician, artist, and photographer. Spends his time turning noises into musical genius, forgotten places into visual masterpieces, and a ghost girl into a muse. He also does impersonations of Sean Connery, and a variety of animals.
Roman and Jennifer joined Society6 on March 20, 2013.
Roman and Jennifer's Store
87 results
Filter