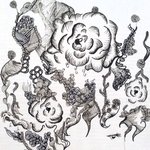 Jennifer Hau
Lives and Works in Markham Jennifer Hau is an Canadian Artist, resides in Markham, Ontario. She as completed her Bachelor of Fine art at OCAD U, 2014. Her art has envisioned a fantasy world for the viewer to be completely immersed into it. As Hau's line slowly spreading through the blank surface, it slowly drifting the viewer into her dreamland and lost within the lines. Loud spontaneous lines emerge, overwhelming chaos. Busy, distracting, noisy, playful and calm. The small tedious lines break onto large empty bright voids, from the chaotic to the simplistic. Transforming figures into fantasy worlds filled with vivid, joyful, colours that can be seen as chaotic at times but also simplistic. The enjoyment of creating art. Website: www.jenniferhau.ca Facebook: https://www.facebook.com/jenniferhauartist Instagram: jenn.hau (for more updated stuff!) Jennifer Hau joined Society6 on November 10, 2014
More
Lives and Works in Markham
Jennifer Hau is an Canadian Artist, resides in Markham, Ontario. She as completed her Bachelor of Fine art at OCAD U, 2014. Her art has envisioned a fantasy world for the viewer to be completely immersed into it. As Hau's line slowly spreading through the blank surface, it slowly drifting the viewer into her dreamland and lost within the lines. Loud spontaneous lines emerge, overwhelming chaos. Busy, distracting, noisy, playful and calm. The small tedious lines break onto large empty bright voids, from the chaotic to the simplistic. Transforming figures into fantasy worlds filled with vivid, joyful, colours that can be seen as chaotic at times but also simplistic. The enjoyment of creating art.
Website: www.jenniferhau.ca Facebook: https://www.facebook.com/jenniferhauartist Instagram: jenn.hau (for more updated stuff!)
Jennifer Hau joined Society6 on November 10, 2014.
Jennifer Hau's Store
34 results
Filter