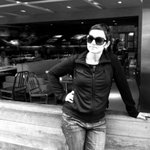 JenniferSanchezArt
My Website - http://jennifersanchez.NYC/ Original Art at Etsy - http://etsy.me/1jOYA2y Limited Editions at 20x200.com - http://bit.ly/1eekLi2 Open Editions at Artfully - http://bit.ly/Artfully Textiles & More - http://bit.ly/1bcOFAV Originally from Florida I moved to NYC in 2001 to focus on painting. I live and paint in the Lower East Side. I license images of my work in a variety of formats including: prints, fabric, wall paper, sporting goods, cosmetic packaging, etc. I'm always interested in exploring new ways my paintings can be printed on surfaces. Especially in fashion and home decor. DVF, Proenza Schouler and Rag & Bone, let's talk. My paintings are layers of geometric patterns, stripes and schmears of vivid colors. The built up layers eventually quiet down to create more minimal and subtle paintings. Recently, textile designs by Native American Indians and Bauhaus master Gunta Stolzl have served as spring boards for new paintings. The emphasis is on materials, process and pure visual pleasure. Each painting begins with general motifs and colors in mind but are never fully planned. It's only through trail and error that the paintings slowly evolve into their own. JenniferSanchezArt joined Society6 on November 28, 2013
More
My Website - http://jennifersanchez.NYC/ Original Art at Etsy - http://etsy.me/1jOYA2y Limited Editions at 20x200.com - http://bit.ly/1eekLi2 Open Editions at Artfully - http://bit.ly/Artfully Textiles & More - http://bit.ly/1bcOFAV
Originally from Florida I moved to NYC in 2001 to focus on painting. I live and paint in the Lower East Side.
I license images of my work in a variety of formats including: prints, fabric, wall paper, sporting goods, cosmetic packaging, etc. I'm always interested in exploring new ways my paintings can be printed on surfaces. Especially in fashion and home decor. DVF, Proenza Schouler and Rag & Bone, let's talk.
My paintings are layers of geometric patterns, stripes and schmears of vivid colors. The built up layers eventually quiet down to create more minimal and subtle paintings. Recently, textile designs by Native American Indians and Bauhaus master Gunta Stolzl have served as spring boards for new paintings. The emphasis is on materials, process and pure visual pleasure. Each painting begins with general motifs and colors in mind but are never fully planned. It's only through trail and error that the paintings slowly evolve into their own.
JenniferSanchezArt joined Society6 on November 28, 2013.