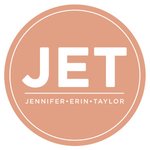 Jennifer Taylor
Hi all. I'm Jen (obviously), a DC-based graphic designer from Georgia. As you can see, I love pattern and the ornate. I clearly trend toward softer colors, so if you see something you like but would like it in a different (i.e. bolder) color, feel free to email or leave a comment to that effect and I will see what I can do! Hope you enjoy perusing my offerings. Thanks for stopping by! jen.erin.taylor@gmail.com Jennifer Taylor joined Society6 on December 26, 2011
More
Hi all.
I'm Jen (obviously), a DC-based graphic designer from Georgia. As you can see, I love pattern and the ornate. I clearly trend toward softer colors, so if you see something you like but would like it in a different (i.e. bolder) color, feel free to email or leave a comment to that effect and I will see what I can do! Hope you enjoy perusing my offerings.
Thanks for stopping by!
jen.erin.taylor@gmail.com
Jennifer Taylor joined Society6 on December 26, 2011.